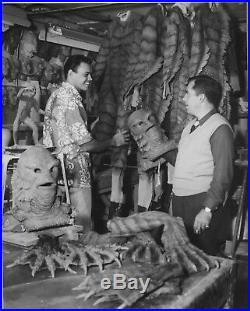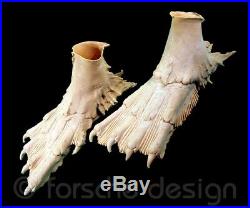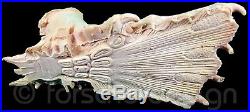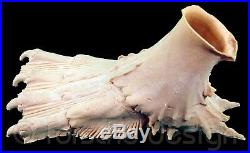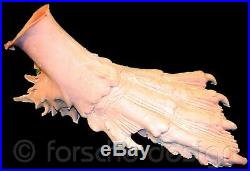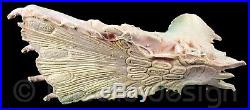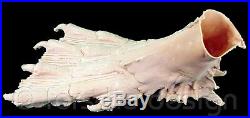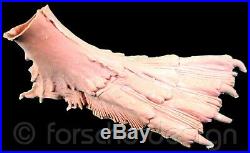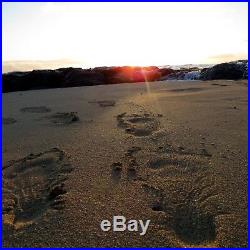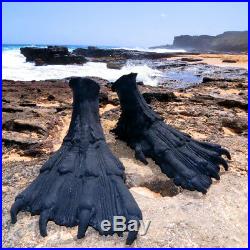 Latex Feet Castings From Originals. These are latex "Gill Man" webbed feet "boots" that are made as display pieces. These latex castings were taken from an original pair of the Land Version feet that were made for the 1954 Horror classic "CREATURE FROM THE BLACK LAGOON". The castings were made as a preservation technique to capture, and maintain the original costume pieces integrity before deterioration set in.
Ben Chapman approved these castings in person and commented that the studio had made a slit in the back of the "boots", and installed a zipper to make them wearable. There were also snaps that held all of the interlocking pieces together. Responsible for all of this handiwork was Universal's Bud Westmore who supervised his extremely talented crew consisting of: Milicent Patrick, Jack Kevan, Chris Mueller, Bob Dawn, Tom Case, Bob Hickman and many others who spent over 8 ½ months into devising a menacing, and believable creature. These black latex "Creature" feet castings are directly from original molds and have not been seamed or painted.
Although the boots are very durable and can be worn, they are really made for display. The Creature still walks among us! Making "Creature" Foot Prints in Honolulu. On February 21, 2012, the 4 year anniversary of Ben's passing, I did just that.

Waikiki is the final resting place of Ben's ashes which were scattered by outrigger canoes after his death. William Forsche with Merrilee and Ben Chapman. William Forsche offers you this high-quality prop direct from his Hollywood collection. Select thumbnail below to read an article about the artist. Please Visit Our Other Auctions.

Performer's Film Television & Media Appearances. Ben Chapman as the Gill-man Born Benjamin F. (October 29, 1928 February 21, 2008) was an American actor best known as playing the Gill-man on land in the 1954 horror film Creature from the Black Lagoon. A distant relative of fellow actor Branscombe Richmond, he also appeared in Wake of the Red Witch in 1949. [1] Contents [hide] 1 Early life 2 Gill Man 3 Death 4 See also 5 References 6 External links [edit] Early life Born in Oakland, California, he spent much of his childhood in Tahiti and moved to San Francisco at age 12 or 13.
[1] A Marine Corps veteran of the Korean War, he was believed to have earned a Silver Star, a Bronze Star, and two Purple Hearts for battle injuries. [1][2][3] However, after his death, the Marine Corps Times began an investigation of these claims based on the improbability of the claim of receiving Purple Hearts in the Chosin Reservoir campaign. Information from Marine Corps records, which were received a month after obituaries with the claims awards of valor and of serving at the Chosin Reservoir, reveal that Chapman did serve in Korea.
The Marine Corps Times reports that, "according to Marine Corps officials and a copy of Chapmans military Report of Separation", Chapman never received the Silver Star, Bronze Star or Purple Hearts. [4] Before he became the Creature he worked as a real estate executive. [1] [edit] Gill Man Main article: Gill-man Chapman was selected as the Gill Man due to his large size at 6'5. [1] His famous suit was made out of a foam-rubber body suit and a large-lipped headpiece. [1] He cited horror film predecessors Lon Chaney Sr. In The Phantom of the Opera and The Hunchback of Notre Dame in the 1920s, Bela Lugosi in Dracula and Boris Karloff in Frankenstein and The Mummy in the 1930s, and Lon Chaney Jr. In The Wolf Man in the 1940s as inspirations to his character. [1] In a 1993 interview, Chapman explained that there were really two actors who played the Gill Man. [1] He was the creature on land; Ricou Browning was the actor in water sequences. [1] However, Chapman was the one who participated in Creature related events. [1] His son Ben Chapman III stated that he had... Heart problems [and] breathing problems.
"[1] Other survivors include his wife of 25 years, self proclaimed "Mrs Creature" Merrilee Kazarian; another son, Grant Chapman; stepdaughter Elyse Maree Raljevich; sister Moea (Harry) Baty; and "several nieces and nephews. [1] Chapman's ashes are to be scattered off Waikiki. [1] Ilene Wong, co-producer along with Wayne Maeda of the Hawai'i All-Collectors Show which Chapman attended from 19992007, said that he was... Always very happy and so giving. People would ask him about the movie, or Hollywood, and he would always provide the answers, help out.
Ben would bring his briefcase and inside he had his memorabilia posters, 8-by-10 glossies and a good pen for autographs. In fact, we expected him this year. I think we will make a shrine for him. [1] Ben Chapman (III) (19252008) Actor Ben is the cousin of screen actor, Jon Hall. The role of the Gill Man in Creature from the Black Lagoon came after a meeting with Jonny Rennig she worked with many cowboys, stuntmen, etc. When he had dropped into the casting office. Ben also worked bartending roles between night club gigs and movies. Directed by Jack Arnold Writing credits Harry Essex (screenplay) and Arthur A.
Ross (screenplay) (as Arthur Ross) Maurice Zimm (story) William Alland idea (uncredited) Cast (in credits order) verified as complete Richard Carlson... Kay Lawrence (as Julia Adams) Richard Denning... Chico (as Henry Escalante) rest of cast listed alphabetically: Ricou Browning... The Gill Man (in water) (uncredited) Ben Chapman... The Gill Man (on land) (uncredited) Perry Lopez...
Louis - Expedition Foreman (uncredited) Create a character page for: LucasZeeTomasDr. MatosLouis - Expedition Foreman Produced by William Alland....
Producer Original Music by Henry Mancini (uncredited) Hans J. Salter (uncredited) Herman Stein (uncredited) Cinematography by William E. Snyder (director of photography) Film Editing by Ted J. Kent Art Direction by Hilyard M.
Brown (as Hilyard Brown) Bernard Herzbrun Set Decoration by Russell A. Gausman Ray Jeffers Makeup Department Joan St. Makeup artist (uncredited) Jack Kevan.... Makeup artist (uncredited) Chris Mueller.... Makeup artist (uncredited) Production Management Foster Thompson.... Unit manager (uncredited) Second Unit Director or Assistant Director Fred Frank.... Assistant director (uncredited) Sound Department Leslie I. Sound editor (uncredited) Albert E. Sound editor (uncredited) Stunts Polly Burson.... Stunt double: Julie Adams (uncredited) Ginger Stanley.... Underwater stunts (uncredited) Al Wyatt Sr. Fire stunts (uncredited) Jack N. Stunts (uncredited) Camera and Electrical Department Scotty Welbourne.... Special photography as Charles S. Welbourne Costume and Wardrobe Department Rosemary Odell.... Wardrobe: Miss Adams Music Department Joseph Gershenson.... Musical director Robert Emmett Dolan.... Composer: stock music (uncredited) Milton Rosen.... Composer: stock music (uncredited) Other crew James Curtis Havens.... Director: underwater sequences as James C. Please review our terms and conditions below thoroughly. Please complete checkout within 3 days.
The Creature will always walk among us. The item "Creature From the Black Lagoon Costume Feet Cast Directly From Original Molds" is in sale since Thursday, July 25, 2019. This item is in the category "Entertainment Memorabilia\Movie Memorabilia\Props\Reproductions". The seller is "forsche_design" and is located in Appleton, Wisconsin.
This item can be shipped worldwide.
Modified Item: No
Country/Region of Manufacture: United States