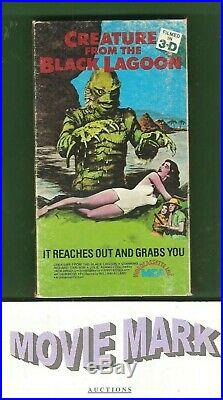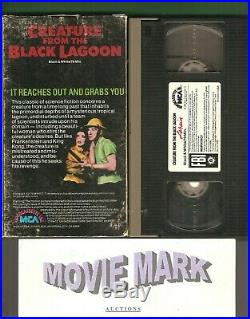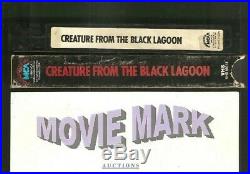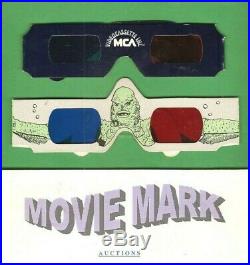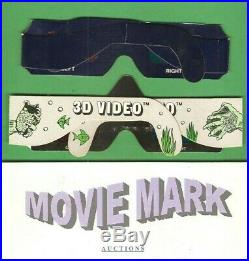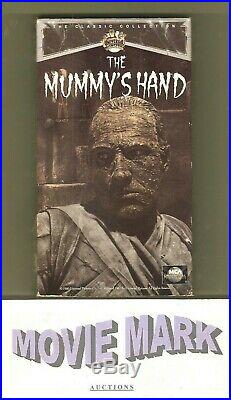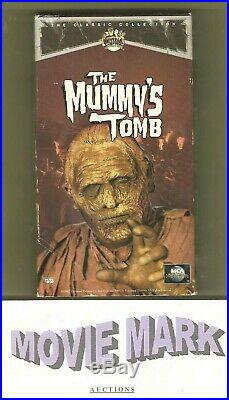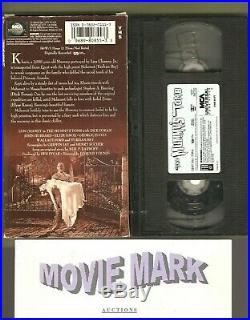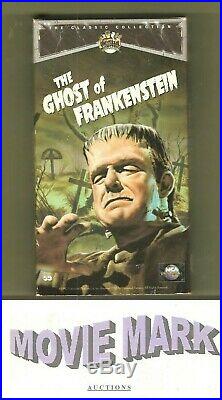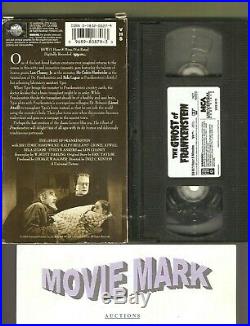 C-21751 - NVV(N)S#2 P. HIGHLY SOUGHT AFTER BY COLLECTORS. NOTE Free random titles selected by us. THANK-YOU FOR SUPPORTING VHS VIDEOS! RICHARD CARLSON and JULIE ADAMS in.. "CREATURE FROM THE BLACK LAGOON ". (1954) Original VHS - Super Duper Ultra-RARE, OOP! WARNING: IF YOU ARE SCARED OF MONSTERS, DON'T SEE THIS MOVIE!
DARE YOU TO WATCH THIS ALONE! AT THE TIME OF LISTING. BUT get this one before it's GONE! Get this one for the LOWEST PRICE on! Grab it while you can!
No copies, dupes or ILLEGAL bootlegs here, just the. WE ONLY SELL ORIGINAL VIDEOS WITH ORIGINAL BOXES. S a previously-viewed former video store rental. It's in very good condition.
Has no video store stickers plus no tamper-proof labels on the cartridge. The main cartridge label is writing ("Lorain") written in. All videos are in good, used condition and play perfectly unless noted. This is the ORIGINAL factory pre-recorded video cartridge which is. At the time these tapes were made, tracking could be done manually. Therefore, on a automatic tracking VCR, during playback, you may have rollover and static lines. We offer no guarantee that you will or will not have tracking problems with this videotape. On older vhs videos (pre-1990) very few were re-mastered for sound quality. Sometimes the ground loop signal was recorded in the source material during dubbing or mastering. Thus possibly creating some pops and hissing. This is the ORIGINAL factory pre-recorded video cartridge. Please keep in mind that this is the ONLY way to get this movie in 3 - D and has been out of print for 31 years! This is in the Anaglyphic process. Anaglyphic processes cannot always reconstruct full-color. Colors which are combinations of red-green (yellow);and red-blue (magenta) reproduce. Please do not expect to get a digitally remastered video because it wasn't made that way. However, it is the best ORIGINAL quality pre-recorded VHS available on the market today! It is not digitally remastered, and how it looks will depend on your VCR and TV. Remember, this is a video tape with 250 lines of resolution compared to today's DVDs, which are digital and 480 lines, and Blu-rays which are 1080 lines, so no matter what TV you play it on, it isn't going to look as crisp as a DVD or Blu-ray. Contains mild movie monster violence. In compliance with's policy on any " or " videos... NO pornographic or sexually explicit material is contained in this item.
All subject matter may be bought and viewed by minors as in an (under 17 w/adult), , , , or rated movies. RUNNING TIME: 79 minutes / Black & White (red & blue tint for 3-D effects) / SP mode the BEST quality! / NTSC / Mono If you are not in the U.
Or Canada please make sure that you will be able to play this NTSC movie. This is not compatible on PAL/SECAM systems. You will need a universal or multi-standard player system to accommodate NTSC videos. VIDEO COMPANY LABEL: (WAY long gone) MCA Videocassette Inc.
This is the collectible "rainbow" logo style box which is what collectors are currently seeking out because it was the first release of Universal Pictures. These were produced from 1979 -1983. Since you are now aware of this, snag this RARE video while you can! VIDEO PART #: VHS 66018.
VIDEO BOX CONDITION: Box is in VERY GOOD condition. It does have some light rub wear. (see pic below and decide for yourself) Scan is of actual original box that you would receive. Moviemark never uses stock photos. Kay Lawrence (as Julia Adams).
DIRECTOR: Jack Arnold (" Games Girls Play ", " High School Confidential ", " Incredible Shrinking Man "). PLOTLINE: Get this SUPER, Ultra-RARE monster horror flick for your home video library! It reaches out and grabs you! A group of scientists discover a terrifying prehistoric monster with an appetite for beautiful women they dub "Gillman" in an Amazonian lagoon where it has existed undisturbed since the Devonian Era. The creature begins to attack the humans after they invade his quiet habitat, but falls prey to the charms of the female research assistant whom he tries to spirit off to his underwater hideaway. A sci-fi/horror classic, originally shown in 3-D to enhance the spectacular and ground-breaking underwater sequences. And this is the way you get to see it!
The film spawned two sequels: "Revenge of the Creature" and "The Creature Walks Among Us". Version is very hard to find on video and will probably never be released again! Comes with TWO pair of 3-D glasses.
Cardboard with red and blue cellophane lenses. In addition, check out my other Universal Horror classic. IT CAME FROM OUTER SPACE. This was originally released in 3-D too when it played in theatres back in the 1950's! In addition, check out my other. Many are out-of-print and not available on DVD. Win a bunch and have a. DOES COME WITH TWO PAIR OF.
These are the ones shown which came with this videocassette. The Creature, using the name "Uncle Gilbert", appeared in an episode of the TV series. (1964) The episode is titled Love Comes to Mockingbird Heights. This is the one and only true.

Which has been out-of-print for over 35 years! If anyone else has a different box displayed, then it's a copied video or illegal imported video! Also, beware of sellers (crooks) using a picture of a MOVIE POSTER to advertise as a box for the VIDEO!
How chintzy can they get? Finally, there are sellers (bootleggers) who use terms like, "No cover box included" -or- "Our distributor does not provide a cover or box art" -and- THE NOW CLASSIC LINE. Tape comes in a plain white box.
Translation of this quote SCREAMS out. You know who you are!
, when in all actuality it's one CON ARTIST with one hand on the VCR record button and the other halfway in your wallet. Any SHMUCK can dupe a video and hide behind the Berne Act -and- say, Movie is believed to be in the public domain in the U. Now they are resorting to offering ILLEGALLY duped DVDs. Been officially released on DVD!
You BOOTLEG PIRATES know who you are. So, if you're looking for the true original VHS with original box art, then this is it!
It is not difficult to figure out who these bootleggers are. They have the same exact titles week after week! You will be able to tell the difference.
Since this is long gone and out-of-print, grab it while you can! (1940) starring Dick Foran and Peggy Moran. (1942) starring Lon Chaney and Dick Foran.
(1942) starring Bela Lugosi and Lon Chaney. Note the 2 "Mummy" movies have a small amount of. There is no obligation whatsoever for these free items. I regret that I can't offer more for those of you who prefer other paying plans but has my hands tied.
PLEASE NOTE: NEW POSTAL RATES. This will be adjusted accordingly as time goes on. Therefore the following rates may not be correct. Because of tracking problems with some foreign buyers we are now forced to use. This is not only for your protection but for ours too. From now on all buyers from Italy must pay for. This is NOT ONLY for my protection but your protection as well. If you do not wish to pay for this. Winner must specify if they want it at time of ordering. We will not be held responsible for uninsured items. Please don't be, what I call, a BIDIOT!
From time to time I will add more RARE, out-of-print titles. You are responsible for his or her actions. Nor do I give out feedback first. Sorry, but there have been just too many times that I gave a feedback first and never received one.
Our Customer Service is built on 4 pillars for you. We respond to your emails, answer questions, and provide help, usually within 1-24 hours. We offer only ORIGINAL items: NO bootlegs -or- reproductions, etc. We strive to provide you with the BEST quality -and- honest description of items possible.
The item "CREATURE FROM THE BLACK LAGOON 1954 (MCA Videocassette) 3-D includes glasses vhs" is in sale since Friday, March 20, 2020. This item is in the category "DVDs & Movies\VHS Tapes".
The seller is "moviemark" and is located in Home of RARE videos. This item can be shipped worldwide.
Country/Region of Manufacture: United States
Studio: Universal Pictures
Former Rental: Yes
Actor: Richard Carlson
Language: English
Rating: NR
Edition: 3-D
Genre: Horror
Signal Standard: NTSC
Sub-Genre: Classic