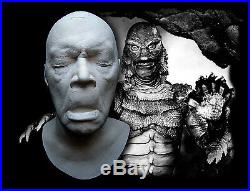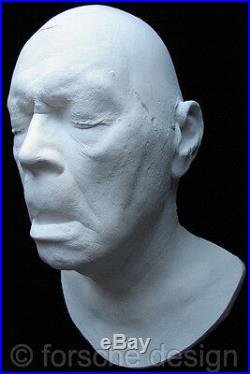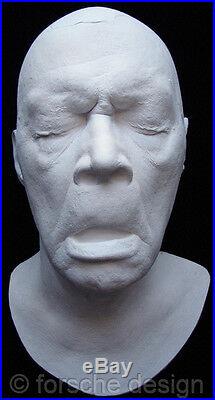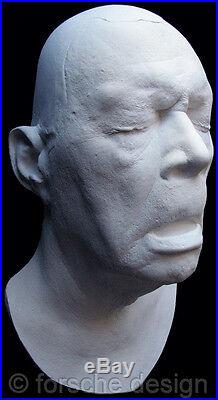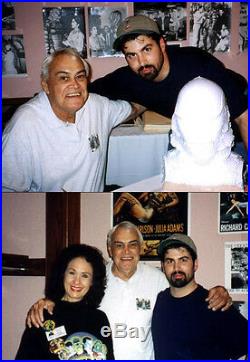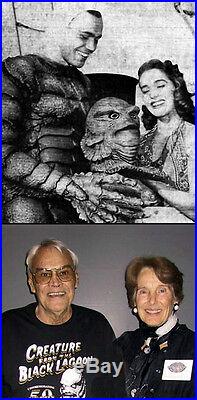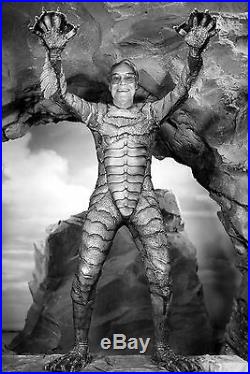 This is a wall hanging lifecast of Ben Chapman who portrayed the Creature from the Black Lagoon on land for the 1954 film. I created this casting when I met with Ben Chapman in April of 2002 and I was amazed when I first removed this casting to see the anguished face that Ben made during the casting. I asked if he was uncomfortable during the procedure and he told me that he wasn't, Ben then told me that the expression came from his channeling of the Gillman during the casting. After viewing the cast it is quite amazing to see how much of the creature Ben was able convey through his facial expression. Select Thumbnails Below To View Larger Images. This casting has good detail and is a direct cast from William Forsche, the artist responsible for creating the original mold on Mr.
The casting is made of a very sturdy white plaster and has sturdy metal wire loop in the back for hanging on a wall. This rare casting also comes with a C. This 1:1 life-size casting is professionally crafted using a professional grade plaster and has a sturdy metal loop in the back for displaying on a wall. This casting can also be produced from a lightweight urethane plastic for an additional 75 dollars upon request.
Below is video of me doing just that. My "Aloha" tribute to Ben Chapman October 29, 1928 - February 21, 2008. William Forsche has been creating and collecting lifecasts for most of his adult life. O ne of Forsche's career highlights was creating a lifecast of Vincent Price in 1988. I have personally been collecting and creating life masks in Hollywood for over 30 years. " "This is a professionally made modern casting made of the highest grade materials available. William Forsche offers you this high quality life mask direct from his Hollywood collection. Castings from our "Premium" Life Mask collection are made for the discriminating collector. These castings have been professionally remastered from the best source materials available, and should not be confused with lower quality life masks readily available elsewhere. And a signature on every cast is provided by William Forsche to ensure its authenticity and high quality. Our castings have been used in numerous film productions, William Forsche has done life mask creation for Academy Award winning make-up artists Rick Baker, Greg Cannom and for George Lucas' special effects company Industrial Light and Magic. Many of our castings are also in the personal collections of high profile collectors and artists such as: Guillermo del Toro, David Bowie, Stevie Wonder, Liza Minnelli, Hugh Heffner, Kirk Douglas, and the late Tony Curtis and Gregory Peck. Testimonials from Hollywood professionals about the quality of Forsche Design Life Masks. Andy Schoneberg is a two time Emmy award winning makeup artist for The Walking Dead.
Below is the Humphrey Bogart display he created using one of Forsche's Life Masks. I met William 28 years ago! He was a master life caster then, doing excellent work.
He's a fantastic artist and technician. William's life cast collection is without equal. If William is offering a life cast of a particular person. You can bet he's done the legwork to make sure that it's the best, most accurate cast available. Dan Platt's work includes "Terminator 2", Tupac Shakur's hologram for "Coachella" and he was also the Facial Model Lead responsible for youthenizing Jeff Bridges as Clu for Tron: Legacy. Bill, I've been collecting life casts from you for 20 years and without fail, your castings are undisputedly the sharpest, distortion free and most accurate castings in the industry. When I had the privilege to work with you at Greg Cannom's in the early 90's, your life cast work was without flaw and that same attention to detail and craftsmanship is evident in every cast that you sell.
The success of my career depends heavily on the solid understanding of facial anatomy, form and structure. For the last two decades, your life casts gave me that invaluable understanding. And without that knowledge, I would never have been able to correctly interpret poorly lit or artistically shot photographs when I recreated Tupac for Coachella.
Tom Spina: Sculptor, Movie Prop Conservation Artist and Collector works on an original Mrs. Doubtfire appliance displayed on a custom Robin Williams life mask display bust provided by William Forsche of Forsche Design. To any and all collectors of lifecasts, You will simply never find another source like William Forsche.

Each is a work of art in its own right, always with highest level of detail of any available, and the closest generation to the original actor's face. I've counted on Bill for reference busts when recreating famous faces and also for things like copies of Robin Williams' head, to which we applied two sets of original Mrs. In order to achieve that, we needed castings that were properly sized and without warp. Bill delivered, as he always does! Daniel Horne is a multiple award winning artist, painter and mask maker whose work is in many private collections worldwide including: Guillermo del Toro, Greg Nicotero and Rick Baker.
William, Thank you again for offering great life casts, I have ten of yours and they are far superior to anything else that is offered. Mike Hill is a portrait sculptor and artist whose work is in many private collections, Mike has also sculpted for television's "American Horror Story" and film projects such as "Men in Black 3" and The Wolfman.
Life masks are a valuable tool in the process of sculpting a human head or likeness. It doesnt matter if it isnt the actual person, understanding the folds and planes of the face is far easier to understand if you hold one in your hand. William Forsche is my go-to for any life mask. The advent of the internet has put collecting life masks into the hands of many people outside the film industry; I have personally acquired some of these life masks from various internet sources and have been extremely disappointed with the quality and the distortion shrinkage etc. The average person outside the film industry doesn't have studio grade life masks to compare their castings with. With over 30 years of selectively collecting life masks it has always been my goal to obtain the highest quality masks available. My professional experience gives me the insight and the ability to compare similar castings and grade them on their detail, shrinkage and distortion. It is my goal and my passion to always make the highest quality life masks possible and it is my pleasure to share these casts with the discriminating life mask collector.
Forsche Design's white plaster lifecast of Grace Kelley on the left compared to theirs which is on the right. Our more complete and detailed Grace Kelley cast does not exhibit the shrinkage or distortion of their casting which has less detail.

Their once white plastic cast has yellowed considerably with age and has only a single wire as a do it yourself type of hanger. Lifecast artist Willa Shalit invited William Forsche to New York City in 1986 to teach her his lifecasting techniques, after seeing the torso and face casting of Hugh Heffner's girlfriend that he created for the Playboy Mansion. Forsche was later asked to assist Willa Shalit with the smiling lifecast of Stevie Wonder created for his Album cover Characters. Many of Forsche's lifecasting techniques were also utilized for some of Shalit's more refined lifecasts in her book Life Cast: Behind the Mask. Forsche works on a life mask of Brooke Shields in Shalit's lifecast studio, New York City circa 1986. Modern day photo of William Forsche recreating the "Aladdin Sane" life masks that he originally made for David Bowie's personal collection. David Bowie and William Forsche at "Top of the Pops" circa 1987. William Forsche with Hollywood Acting Legends: Kirk Douglas, Tony Curtis and Gregory Peck.

Select image below to read an article about the lifecast artist William Forsche. William Forsche was asked to join several other top Hollywood make-up effects artists recently to teach his lifecasting techniques in the Ultimate Creature Creator Class. Performer's Film Television & Media Appearances.
He was raised in Tahiti, relocated to the U. In 1940 and went to school in the Bay Area of San Francisco. Working as a Tahitian dancer in nightclubs led to his first movie job, a bit in MGM's "Pagan Love Song" (1950); other small film roles followed before Korean War duty temporarily sidetracked his modest screen career. Talent scouts from Universal-International "discovered" Chapman upon his return, and for a year he became a U-I stock player--and, at six-foot-five, an ideal choice for the finny title role in Creature from the Black Lagoon. Chapman is the Creature in scenes where the camera is out of water; Ricou Browning is the Creature in scenes where the camera is underwater. In his later years, Chapman frequently commuted to autograph shows in the mainland United States. IMDb Mini Biography By: Tom Weaver Ben is the cousin of screen actor, Jon Hall. The role of the Gill Man in Creature from the Black Lagoon (1954) came after a meeting with Jonny Rennig she worked with many cowboys, stuntmen, etc. When he had dropped into the casting office. Ben also worked bartending roles between night club gigs and movies. He was tending bar when he first met Peter Lawford and later Jack Kennedy when he was still a Senator and would later enjoy parties at the Lawford home.
IMDb Mini Biography By: Bogie-24 Trivia (7) Was fluent in French, Tahitian, and Chinese as well as English. He is survived by his three children: Benjamin Franklin Chapman III, Grant Chapman, Elyse Maree Raljevich, and by his sister, Moea Baty. A careful review of the Official Military Personnel Folder shows Chapman was authorized the Korean Service Medal with One Star and the United Nations Service Medal.
These awards were given to soldiers who served in the wartime theater; a star was for participation in a campaign. Interviewed in Tom Weaver's book "Attack of the Monster Movie Makers" McFarland & Co. Nephew of James Norman Hall. Cousin of Jon Hall and Conrad L.
[August 2003] Personal Quotes (2) [on the Gill Man from Creature from the Black Lagoon (1954)] They were the interlopers. They came to his home. It'd be the same thing if you went home tonight and you found eight or ten or twelve people having a party in your living room. I had a lot of respect for Jack Arnold. We wound up the best of friends but he was a tough director. (screenplay) (as Arthur Ross) Maurice Zimm... (idea) (uncredited) Cast (in credits order) verified as complete Richard Carlson Richard Carlson... David Reed Julie Adams Julie Adams... Kay Lawrence (as Julia Adams) Richard Denning Richard Denning... Mark Williams Antonio Moreno Antonio Moreno... Carl Maia Nestor Paiva Nestor Paiva... Lucas Whit Bissell Whit Bissell... Edwin Thompson Bernie Gozier Bernie Gozier... Chico (as Henry Escalante) Rest of cast listed alphabetically: Ricou Browning Ricou Browning... The Gill Man (in water) (uncredited) Ben Chapman Ben Chapman... The Gill Man (on land) (uncredited) Perry Lopez Perry Lopez... Tomas (uncredited) Sydney Mason Sydney Mason... Matos (uncredited) Rodd Redwing Rodd Redwing... Louis - Expedition Foreman (uncredited) Create a character page for:? Producer Music by Henry Mancini... (uncredited) Cinematography by William E. Director of photography Film Editing by Ted J. Kent Art Direction by Hilyard M. (as Hilyard Brown) Bernard Herzbrun Set Decoration by Russell A. Gausman Ray Jeffers Makeup Department Joan St.
Makeup artist (uncredited) Jack Kevan... Makeup artist (uncredited) Chris Mueller... Makeup artist (uncredited) Production Management Foster Thompson... Unit manager (uncredited) Second Unit Director or Assistant Director Fred Frank... Assistant director (uncredited) Sound Department Leslie I.
Sound editor (uncredited) Albert E. Sound editor (uncredited) Stunts Polly Burson... Stunt double: Julie Adams (uncredited) Ginger Stanley...
Underwater stunts (uncredited) Al Wyatt Sr. Fire stunts (uncredited) Jack N. Stunts (uncredited) Camera and Electrical Department Scotty Welbourne... Special photography as Charles S. First grip (uncredited) Costume and Wardrobe Department Rosemary Odell...
Wardrobe: Miss Adams Music Department Joseph Gershenson... Musical director Robert Emmett Dolan... Composer: stock music (uncredited) Milton Rosen... Composer: stock music (uncredited) Other crew James Curtis Havens...
Director: underwater sequences as James C. Creature designer (uncredited) Crew verified as complete. Please review our terms and conditions below thoroughly.
Please honor my request not to make copies of this casting or other Forsche Design castings for resale or offer it to others that won't honor this request. I understand the possible need to create a piece utilizing different materials as part of your own project, this is of course fine and as an artist I encourage "new" artistic expression. I just ask that you don't sell exact copies of these castings which I have put much time and effort to acquire and maintain over the years. Please complete checkout within 3 days. All other trademarks, logos and copyrights are the property of their respective owners.
The item "Ben Chapman Life Mask Creature from the Black Lagoon NR" is in sale since Wednesday, March 20, 2019. This item is in the category "Entertainment Memorabilia\Movie Memorabilia\Props\Reproductions". The seller is "forsche_design" and is located in Kaukauna, Wisconsin.
This item can be shipped worldwide.
Original/Reproduction: Reproduction
Type: Life Mask
Modified Item: No
Country/Region of Manufacture: United States
Genre: Movie Memorabilia
Product Type: Props