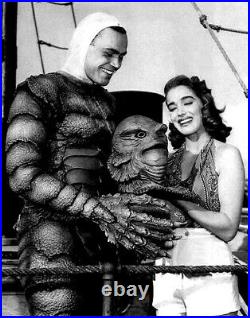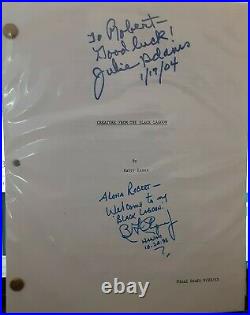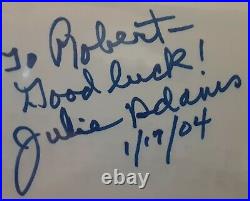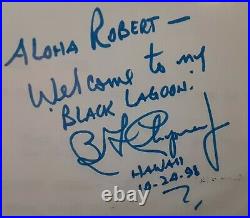 Autographed by JULIE ADAMS & BEN CHAPMAN Very Fine to Near Mint SCRIPT Copy "Final Draft 9/22/53" (see photo) - 114 Pages; 8.5" X 11" - THE CREATURE FROM THE BLACK LAGOON (1954) Universal International. Offered in this lot is a copy of the script for "The Creature from the Black Lagoon" signed by actress JULIE ADAMS in 2004 to Robert Good Luck! In 1998 Aloha Robert - Welcome to my Black Lagoon. An unrestored script that appears virtually unused. Close inspection may reveal one or two minor blemishes, such as minimal edge / spine wear.
It is believed the signature(s) on this item is authentic, but realize, no'Certificate of Authenticity' (COA) is provided. Also included are mini bios and other biographical reference materials, including obituary information as both stars have passed. TAGLINE : Creature from a million years ago! Every man his mortal enemy... And a woman's beauty his prey!
- A strange prehistoric beast lurks in the depths of the Amazonian jungle. A group of scientists try to capture the animal and bring it back to civilization for study. A scientific expedition searching for fossils along the Amazon River discovers a prehistoric Gill-Man in the legendary Black Lagoon. The explorers capture the mysterious creature, but it breaks free. October 29, 1928 in Oakland, California, USA. Ben Chapman was born in Oakland, California, while his Tahitian parents were on a trip to the United States. He was raised in Tahiti, relocated to the U.
In 1940 and went to school in the Bay Area of San Francisco. Working as a Tahitian dancer in nightclubs led to his first movie job, a bit in MGM's "Pagan Love Song" (1950); other small film roles followed before Korean War duty temporarily sidetracked his modest screen career. Talent scouts from Universal-International "discovered" Chapman upon his return, and for a year he became a U-I stock player--and, at six-foot-five, an ideal choice for the finny title role in Creature from the Black Lagoon. Chapman is the Creature in scenes where the camera is out of water; Ricou Browning is the Creature in scenes where the camera is underwater.
In his later years, Chapman frequently commuted to autograph shows in the mainland United States. October 17, 1926 in Waterloo, Iowa, USA. February 3, 2019 in Los Angeles, California, USA (undisclosed causes).
Betty May Adams / Nicknames. Growing up in Arkansas, Betty expressed an early interest in acting and made her performing debut in a third grade play of "Hansel and Gretel". Beautiful, talented and determined, the freshly minted'Miss Little Rock' left home at the age of 19 to live with her aunt and uncle in California.

For three days a week she made ends meet working as a secretary. The remainder of her time was spent taking speech and drama lessons (in due course losing her Southern twang) and making the rounds of the various Hollywood casting departments. Her first screen role was (appropriately) as a starlet in Paramount's Red, Hot and Blue (1949). This was followed by an inauspicious leading role in the B-grade Western The Dalton Gang (1949). Over a period of five weeks she appeared in six further quota quickies of the sagebrush variety for Poverty Row outfit Lippert Productions. Since Lippert owned no actual studio facilities, most of the filming took place at the Ray Corrigan ranch in Chatsworth, California. In the summer of 1950, Betty assisted in a screen test for Detroit Lions football star Leon Hart at Universal-International. While Hart's movie career ended up stillborn, Betty clicked with producers who opted to change her first name to'Julia'. The initial outing for her new studio was entitled Bright Victory (1951), with the budding actress a little underemployed as'the other girl' in a love triangle involving a blind war veteran (played by Arthur Kennedy). Her career was significantly better served in her next assignment as co-star opposite James Stewart in Anthony Mann's seminal Technicolor western Bend of the River (1952) (Kennedy this time cast as the arch villain). Adams later recalled her part in this film as "a great learning experience" and one of her "fondest Hollywood memories". It also led to a life long friendship with Jimmy Stewart. A comely actress with soft, classical features, she often gave affecting performances in what amounted to little more than bread-and-butter pictures. At the very least, she got to play romantic leads opposite some of Universal's top box-office earners: Rock Hudson in Horizons West (1952) and The Lawless Breed (1952), Tyrone PowerThe Mississippi Gambler (1953) and Glenn Ford The Man from the Alamo (1953). Having played a succession of'nice girls', Julia took a turn as leader of an outlaw gang in Wings of the Hawk (1953), set against the background of the Mexican Revolution (Van Heflin was first-billed as a mining engineer, who, having his gold mine taken over by Federales, joins Julia's band of'insurrectos').
Miss Melon Patch' of 1953 was about to experience another important career change, being famously cast as the imperilled heroine Kay Lawrence in Jack Arnolds cultish monster flic Creature from the Black Lagoon (1954), a role Adams initially considered turning down. Shot in 3-D on a shoestring budget, the picture was light on script but strong on atmosphere and proved once again that style can succeed over content. In 1955, having generated strong box office heat, Julia changed her moniker (with studio approval) to the less gentle-sounding Julie. Accordingly, she was now offered more varied material ranging from tough melodramas, to comedies and lightweight romances.
Adams further established her credentials with roles which included a soft porn model who survives a plane crash in the Colorado Rockies in The Looters (1955); as a cop's wife in Six Bridges to Cross (1955) (a crime drama based on Boston's Great Brinks Robbery); a sympathetic school's doctor in the family-oriented comedy The Private War of Major Benson (1955) and as the wife of an assistant D. Fighting gangland on the New York waterfront in Slaughter on 10th Avenue (1957). After 1957, her contract with Universal having expired, Adams successfully transitioned into television where she remained a firm favourite in westerns and crime dramas, guest-starring in just about every classic prime-time series covering both genres Perry Mason (1957) being her personal favourite. Latterly, she had a popular recurring role as real estate lady Eve Simpson in Murder, She Wrote (1984). Adams was still in demand for occasional screen appearances well into her 90s. She was married twice: first, to writer-producer Leonard Stern, and, secondly, to the actor Ray Danton. Julie Adams passed away in Los Angeles on February 3 2019 at the age of 92. Her autobiography (co-written with her son Mitchell Danton), entitled "The Lucky Southern Star: Reflections from the Black Lagoon" appeared in 2011. This item is in the category "Entertainment Memorabilia\Autographs-Original\Movies\Other Orig. The seller is "hardtofindrare" and is located in this country: US.
This item can be shipped to North, South, or Latin America, all countries in Europe, Australia, Indonesia, Taiwan, Thailand, Hong Kong, New Zealand, Singapore, Malaysia, Brunei Darussalam, Cambodia, Macau, Vietnam.
Modified Item: Yes
Country/Region of Manufacture: United States
Original/Reproduction: Original
Object Type: Movie Script
Show: The Creature From The Black Lagoon (1954)
Original Film Cast :: Julie Adams, Ben F., Richard Carlson
Directed by :: JACK ARNOLD
Signed by: Julie Adams, Ben F.
Modification Description: Copy of the script for \
Autograph Authentication: Heritage Auctions
Signed: Yes
Industry: Movies